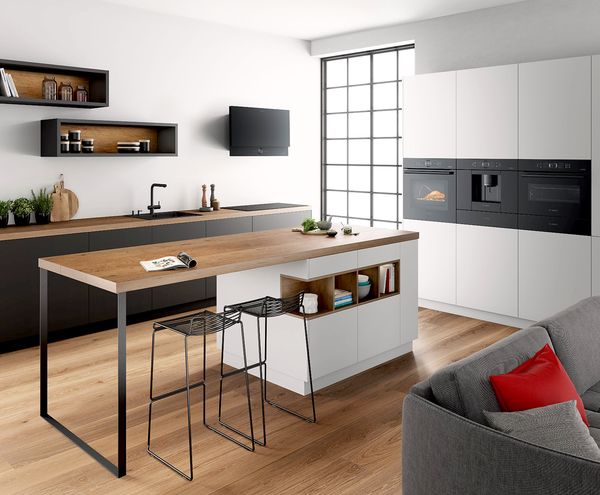 High-performance sensors enhanced by artificial intelligence: The Serie 8 sensor-controlled oven with lols10ͶעConnect.
An oven that'll predict when a cake baked to your individual recipe is done? Bosch is the first home appliances manufacturer in the German market to now incorporate the possibilities of artificial intelligence in sensor-controlled built-in ovens. To make your daily life even simpler and more convenient.
Highlight for the kitchen: Bosch's first induction cooktop with interactive lighting.
Last year Bosch received numerous design awards with its accent line carbon black appliances. This is now followed by the first accent line carbon black cooktop with extended FlexInduction and interactive lighting – a new highlight for everyone who sets store by minimalist design, impressive details, modern high-tech features and maximum comfort.
Form and function to the fullest: Cooktops with integrated extractor hoods in the accent line carbon black range
Allowing no compromise either with function or design, the new accent line carbon black cooktops with their integrated ventilation system offer the best of both worlds: a new, purist induction hob featuring a high-performance integrated ventilation system in the accent line carbon black. Perfect for everyone who wishes to fully experience the trend towards merging the kitchen and living space yet still wants a clear and unobstructed view when cooking.
Take a deep breath and relax: extractor hoods with a pollen filter.
New extractor hoods offer the perfect solution whatever your needs. With the CleanAir Plus recirculating module, Bosch has come up with an effective solution against pollen for the first time. It absorbs over 99% of pollen* and more than 90% of odours from the ambient air. Bosch is also presenting a new ceiling hood with lift function.
* Testing process: 1. Measured as per ISO 16890-2 and -4 (for particles), 2. Measured with Ambrosia pollen in a test system as per ISO/TS 11155-1
Abundant space for a mindful lifestyle: Bosch XXL cooling appliances with the VitaFresh freshness system
This is not only a trend driven by large families – average households are also keen to avoid going shopping every day or would simply appreciate having a more spacious fridge. Bosch offers a wide selection of XXL appliances available with an endless range of dimensions and features to suit every kitchen space, and satisfying every want and need. Perfect for all households looking for high levels of convenience and a mindful lifestyle.
Individuality meets art: Vario Style, world's first fridge-freezer with exchangable door fronts, now available with powerful photo print designs
Customising is on trend. VarioStyle, the world's first and only fridge-freezer combination with exchangable door fronts, has been winning over consumers since 2017. Now Bosch is taking the next step towards creating the perfect customised home appliance. Starting in 2020, the home appliances manufacturer will be adding eye-catching photo designs for consumers' fridge-freezers to its existing wide range of coloured door fronts.
More freshness, less food waste: Bosch fridges with VitaFresh Pro freshness system for healthy and sustainable food consumption
As a home appliances manufacturer Bosch has for years seen it as its duty to combat food waste. So building fridges and freezers that are designed to preserve maximum freshness, flavour and vitamins. The VitaFresh freshness system from Bosch keeps healthy food fresh for longer – helping avoid food waste.
Indoor Gardening: Bosch SmartGrow makes it possible.
From herbs, vegetables and salad to edible flowers: With SmartGrow Bosch has come up with a complete solution for the Indoor Gardening segment and offers over 50 different seed capsules. The new VarioTray accessory now puts even greater variety into healthy diets. This module, which has been specially developed with superfoods in mind, is easy to use and lets you start planting right away.
Experience silence: The 2019 SilenceEdition from Bosch.
Rest and relaxation is essential – above all at home. With Bosch's SilenceEdition we at Bosch help you to switch off when switching on. These virtually silent appliances deliver perfect results without disturbing your peace and quiet.
Conscious washing and drying: The new generation of laundry care appliances.
This is how pleasurable laundry care can be: The new washing machines and dryers from Serie 8 and lols10ͶעProfessional won't just impress with their stylish new design, but also offer many new features bound to make your life easier. For example, with AutoClean you only have to clean the fluff filter of your dryer eight times a year instead of 160.
The new and lightest cordless hand-held vacuum cleaner from Bosch: The Unlimited Serie | 6.
The light and cordless Unlimited hand-held vacuum cleaner from Bosch guarantees effortless operation and flexible cleaning. The replaceable rechargeable battery means that the Unlimited is available at all times.
Food stays fresh for longer with the ErgoMixx vacuum storage system
With just one click you can turn the ErgoMixx hand blender into a vacuum sealing system. When combined with the flexible vacuum keep-fresh containers and bags, this system makes it easy to preserve and store food – so helping to avoid wasting food.
Bosch Cookit: For those who want more from cooking
The first connected, multifunctional food processor with cooking function from Bosch offers simple, time-saving solutions for preparing fresh food at home on a daily basis. The Cookit impresses for example with its 3 different cooking modes, temperatures up to 200 ° and an extra-large pot with a capacity of 3 l.
Smart today, smart tomorrow: Perfectly equipped for the future with connected home appliances
Connected Bosch home appliances with lols10Ͷע Connect are making day-to-day life easier in more and more households. lols10Ͷע Connect now offers even more options that are perfectly tailored to your needs. For instance, interaction between the Smart Dry washing machine and dryer that delivers perfectly dried laundry.